Get Wiring Installed For Your New Hot Tub
If you have ever thought about getting a hot tub, you may have walked into a showroom and found that hot tub wiring is not included with your purchase. Lost and unsure of how to get wiring for that large of a system, you may have walked out of the hot tub showroom with empty hands. Luckily for you, you do not have to worry about that anymore. At Stella Electric, we can provide you with hot tub and spa wiring services.
If you are thinking about getting the hot tub of your dreams or have already purchased it, we can assist you. To get hot tub wiring through Stella Electric, give us a call at today!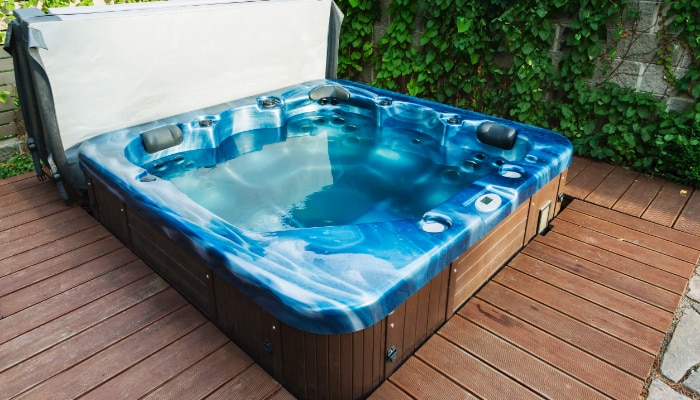 How much does it cost to hardwire a hot tub?
It costs around $900-$1,500 to hardwire a hot tub. Some things that can affect the overall price include: 
The location of your hot tub. 

Your current wiring and electrical connections.

The size of your hot tub and the wiring it will need.
If your electrical panel is not powerful enough to handle a hot tub or your outlets are not GFCI outlets, you will need to have those upgraded for safety and code compliance. To get your hot tub hardwired, call us today.
Do hot tubs need special electrical wiring?
Yes, hot tubs require specific wiring in order to be safe and operational. There are many factors that need to be considered when setting up wiring for your hot tub, such as where your hot tub will be placed, the type outlets that are near your hot tub, the strength of your electrical panel and whether there are any metal features near your hot tub that will need to be grounded. Hot tub wiring is specific since it has to account for electrical safety around water in addition to the power required to run your hot tub. To get your hot tub wired, give us a call today!
What size breaker do I need for a hot tub?
For a hot tub, you will generally need a dedicated 220-240 volt, 50-60 amp breaker. The reason you will want a dedicated breaker for your hot tub is to ensure that the breaker is able to solely power your hot tub without the interference of other electrical features such as outdoor lighting or outdoor appliances. Fortunately, Stella Electric can evaluate your hot tub and existing wiring to provide you with recommendations that will offer you effective and code-compliant hot tub wiring. Contact us today to get your hot tub wired.
When it comes to hot tub and spa wiring, we can install new wiring for any size or style of hot tub. We analyze your existing wiring and the distance to your hot tub from your home to determine the kind of wiring that is needed. We will also evaluate any existing outlets near the hot tub to ensure that they are GFCI outlets and upgrade them if they are not. GFCI outlets will help to prevent any safety hazard, by tripping if any water gets into the outlet.
Things That Can Affect Your Hot Tub Wiring
There are a few things you should take into account when it comes to having hot tub wiring installed: 
The type of siding you have on your home.

Ground considerations (based on your municipality).

The distance between your outlet and your hot tub. 

The size of the wiring and the hot tub.
These factors can cause the hot tub wiring project to be more difficult as well as to potentially cost more, since other variables will need to be taken into consideration. For instance, if you have metal siding 6 feet or fewer from your hot tub, that will need to be grounded to minimize safety hazards.
Trust Stella With Your Hot Tub & Spa Wiring
Proper wiring is necessary to enjoy your new hot tub, so be sure to hire an experienced and knowledgeable electrician to install your new hot tub wiring. To learn more about Stella Electric's professional spa wiring services, contact us today!